These delicious Lemon Bay Pan Roasted Shrimp are loaded with garlic and buttery goodness. I don't know about you, but I'm drooling.


Da-da-da-duuuun   Da-da-dun-dun-da-dun dun-dun dun-dun  Da-da-da-da-dun-da-duuun  Are ya ready for some footbaaaaaaaaaaaaall!!  *snickers*
It's Game Day with #SundaySupper!!  We have an AMAZING line up of team dishes for you to nosh on while watching the BIG GAME!  Like these shrimp.
I've been on a bit of a lemon kick lately.  I don't know what it is.  They just smell so yummy and are even more tasty; especially when paired with shrimp.  These shrimp.  And some garlic, some bay leaves, some butter.  Drooling yet?
I think I've told this story before, but S and I were witting at a Wegman's counter and had some shrimp that were to die for.  The key?  Chicken broth, lemon and bay leaves.  LOTS of bay leaves.  I never in a million years would have thought to pair bay leaves with shrimp.  Ever since then, I have.  Even when boiling I add some lemon and bay leaves.  It's that "what is that flavor" element most will not be able to recognize and just makes them so very tasty.
S and I don't do a lot for the Super Bowl.  We'll have regular lunch and dinner.  I don't think we'll even have nibbles.  We just don't.  If were having a party or attending a party, I'm sure we'd have meatballs, wings, veggies, cheese, chips, dip, and all that good stuff.  But for just us?  It's a waste.  I may get some wings and just try my hand at baking some to see how they go, but not many.  Our Sundays are usually pretty much planned no matter what's going in the sports world.
Ya know, I just may make some dip to go with our chips.  That would be good….chips, dip and maybe a few wings.  And these shrimp.  These delicious lemon bay shrimp are loaded with garlic and buttery goodness.  I don't know about you, but I'm drooling.
Make sure you check out all the Game Day deliciousness we are sharing this Sunday!
Game Day Appetizers:
Game Day Entrees:
Game Day Desserts: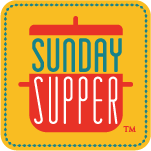 Join the #SundaySupper conversation on Twitter each Sunday. We tweet throughout the day and share recipes from all over the world. Our weekly chat starts at 7:00 pm EST. Follow the #SundaySupper hashtag and remember to include it in your tweets to join in the chat. Check out our#SundaySupper Pinterest board for more fabulous recipes and food photos.