Buy small packages of many different meats and cheese for a buffet that is fabulous.  Charcuterie Buffet is easy to assemble and definitely something your guests will enjoy.
I don't know about you, but my work is littered with holiday parties.  That's really the only way to describe it; littered.  In my building alone, there's at least one on almost every floor.  At least four that I know of.  Then there's one across the street in the old building.  And finally, there's one at the main office on Pennsylvania Ave.
Littered with parties.
Granted, I don't have to take anything to most of these parties, but I still fell like I should contribute to some extent.  Of course, with these parties being buffet style, it's easy to bring something for everyone to eat.
However, I'm not a huge fan of the typical.  If you've ready my blog at least a little bit you'll know this.  My recipes aren't always typical and sometimes way outside the box.  Take my savory beet or pizza macaron for instance or my Rueben enchiladas.  So, when this buffet menu ideas popped up for Sunday Supper, I thought of charcuterie.  Don't ask my why.  I just did.
I know charcuterie is usually a board of some sort.  It's served up on a platter for a select few to enjoy.  I wanted to take it one step further.  I wanted to offer up the idea of a charcuterie board for a buffet!  It only makes perfect sense.  At least in my head, it does.
You offer up a series of meats like prosciutto di parma, mortadella, soppressata, and coppa.  Then you throw in some cheese like blue brie (OMG this is divine if you like brie and blue), edma, basque, Havarti, manchego, and ibirica.  Then you toss in some cippolini onions, Kalamata olives, and Spanish green onions along with some dried apricots and nuts.
It seems like a lot of expensive food.  However, that's the not the case.  You can buy small packages of lots of meats and cheeses for a buffet that is fabulous.  Add enough of the extras like crackers, olives, nuts, and dried fruits and you have a budget friendly charcuterie for a buffet.
And, since it's an appetizer, you don't want people loading up on food before the big meal, right?  So, you really don't want to put out a whole smorgasbord of meats and cheese.  That is, unless you want tons of main dish leftovers.  Then, by all means, set a plethora of them and have more main meal leftovers for yourself.
Now, while Mom and A were here for Thanksgiving, we totally made dinner out of cheese, crackers, vegetables, and spinach dip.  It was the WORST day that week.
Like, getting my resume together bad.
Figuring out how to get a copy of the personnel file bad.  Yah.  THAT bad.
I had plans for dinner when I got home.  I was going to cook this Certified Angus Beef Brand flat iron roast along with some broccoli and either rice pilaf or risotto.  Mom said, "Just don't worry about dinner right.  Sit down, have some wine, and relax a bit."  Well, who can so no to that?  After that day, I certainly couldn't.
That's probably one of the best things about serving anything up buffet style; you can relax!  There's no need to fix plates for everyone.  And definitely no need to serve people.  Let them get up, mingle, pick and chose what they want to eat, and give you the time and ability to enjoy your party.
Being a somewhat picky eater growing up, I loved buffets!  That meant I didn't have to eat something I didn't like.  I didn't have something on my plate that I didn't know what it was and didn't even want to try to eat it.  Asparagus and salmon were never on my plate at a buffet.  Yes, you can see some token smoked salmon there.
Yes.  I know smoked salmon of fish usually doesn't belong on a charcuterie board.  That's typically for just meats and cheese, but I wanted to throw you for a loop.  You can add some smoked salmon, trout, or other fish.  Why not try some smoked oysters or mussels?  Who says it has to salamis or other cured meats and cheese?  I most certainly did not.
Oh, then that lends you to a whole different kind of charcuterie!  Maybe some smoked octopus or squid?  How about duck sausage or different kinds of cheeses?  I did have a blue brie on mine.  Did you see it?  It looks like a small wheel of brie but has a blue vein in there.
I need to find more of that cheese.  It was delicious.  Even the rind was delicious!  That's usual for me to say.  I am religious about removing the rind off the brie.  It's almost like cilantro with me; I just don't eat it!  But not this cheese.  The blue brie had an edible rind and I didn't even bother taking it off.
This is first time I've tried mortadella.  It's probably the last time I'll eat it, too.  Holy it's not my cup of tea.  To me, it's like the fattiest bologna you can eat.  And I love bologna.  I wonder what it would taste like fried on a sandwich?  That's a thought.  But I'm really off on a tangent now.
You can't say that your guests, and you, would love to dig into a table full of charcuterie choices like this one. It has sweet and savory. Then there's the smooth and crunchy. And finally, the tang of delicious blue brie.
Have you thought about setting out charcuterie items for your guests to nibble on before a buffet dinner? What types of items did you set out for them? Make sure you see what the rest of the #SundaySupper crew have served up for their buffet dinner.
Buy small packages of many different meats and cheese for a buffet that is fabulous.  Charcuterie Buffet is easy to assemble and definitely something your guests will enjoy.
Ingredients
6 ounces each: genoa salami, soppressata, mortadella, serrano ham, coppa, peppered salami, prosciutto di parma, and smoked salmon (optional).
4 to 6 ounces each: manchego, ibirico, basque, gouda, edam, Havarti, brie, blue brie, and aged goat cheese
1 cup Kalamata olives
1 cup jumbo, stuffed, Spanish green olives
1 cup dried apricots (or other dried fruits)
1 cup mixed nuts
1 cup cippolini onions
2 to 3 sleeves of crackers
Instructions
Assemble the meats on parchment. Label each meat by writing on the parchment with a permanent marker.
Slice the cheese or cut into bite sized pieces. Arrange on parchment or a cheese stone. Label accordingly.
Place the olives, cippolini onions, apricots, and nuts in small bowls.
Arrange the crackers on a plate.
Serve!
Buffet Menu Ideas #SundaySupper
Abundance of Appetizers
Sundry of Savory Dishes
Desserts by the Dozen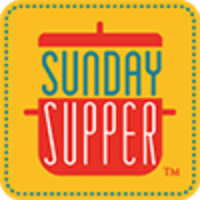 The Sunday Supper Movement is committed to bringing our readers delicious recipes that encourage them to gather and eat together around the family table. Search for your favorite ingredients on our Sunday Supper website. Also check out the Sunday Supper Pinterest boards for plenty more ideas and inspiration.