Easy Peanut Butter Cereal Bars
It takes 5 minutes tops to make these Easy Peanut Butter Cereal Bars. Oh, and only 4 ingredients. There's no reason you can't have these waiting for the kids when they get home from school.
I received samples from Sweets & Treats Boutique for this #BacktoSchoolTreats week recipe. All opinions are mine alone.
When I think of after school treats, I think of those marshmallow treats. Actually, I don't think of the popular version. Now, I'm not quite sure when that krispie version came into being, but I hazard a guess it was later in my life? I could be wrong on this and probably should look it up.
Okay, so way older than I thought. I just don't remember having them growing up. Invented in 1939 for the Campfire Girls, they were and adaptation of on a puffed rice brittle published in 1916. I find that totally interesting. We are constantly adapting recipes in one way shape or form. A few years later, Kellogg's decided to publish the recipe on the back of the box and the rest is history.
Now, when I was a wee little hoor in kindergarten, we made the most delicious little, no bake wreath cookies. We made those with corn flakes, marshmallows, peanut butter, maybe some powered sugar, and the red hots for the berries on the wreaths. We even put green food dye to make them green. They were wreaths you know.
Ever since then I've can't resist anything with cereal, marshmallows, and peanut butter in them. And since I relate these types of treats with school, I thought they were be perfect for #BacktoSchoolTreats! You follow me, right?
Now, I initially was going to make them fruit flavored. Using like fruity pebbles or something like that. But I'm doing fruit cereal for the macaron. Yes. I said fruit cereal macaron. I can't wait to share those with you.
Anyway, I opted for this delicious peanut butter and chocolate Cheerios. Because next to Honeycomb and Sugar Pops, Cheerios are my third favorite. I remember when the fruit Cheerios came out. I was dating the hubs at the time and he would purchase some just so we could have the same cereal for breakfast. I always put a banana in my mine for added fiber. He didn't do that. And when I came to visit, there was always a box for me and some bananas to have for breakfast while I was there.
Yes, he is still that thoughtful! He bought me a new lunchbox for work the other day because mine was getting dingy and gross. I didn't ask. He saw it on the counter in a vain attempt to clean it. It just got moldy instead. So, he bought me one that has a waterproof lining! Love that man!
So, back to the Cheerios. I initially planned on putting extra peanut butter in these, but oh my word those Cheerios don't need the extra peanut butter. They're plenty peanut buttery on their own. And I would hazard a guess that you don't need extra chocolate either. It would make them WAY too sweet. They were perfect with just the right amount of chocolate and peanut butter flavor without any extra ingredients. Just the Cheerios.
I really should back that up. INITIALLY I was going for fruit cereal. But that's too common. And maybe Cheerios are to common, but they have such a range of flavors they're an easy target for cereal bars. There's honey nut, apple cinnamon, fruit, frosted, peach, berries, clusters, berry, chocolate, banana nut, and there's even pumpkin spice. Seriously, what other cereal has as many flavors as Cheerios does?
Okay, this is not a sponsored post for Cheerios. Honestly.
This is a sponsored post for Sweets & Treats Boutique. You see those adorable little sprinkles in there? You know, the ABCs and 123s and all the letters and numbers in between? Those are from the ABC 123 sprinkle mix from Sweets & Treats Boutique.
I love their products. There's such a large range of them from the tulip quins I put in the lavender macaron to the fun seahorses I put on the orange Julius popsicles. You can pretty much find anything you could want on their site. And they have paper products, too! There's wrappers and straws and baggies galore!
Granted I haven't ordered any of those. I don't really contemplate wrappers when I'm thinking of something to bake or make for these events. I really should go the full Monty and order something to display them on, too. I'm sure they'll be a sponsor for another event. So, I know I'll have a chance to do so. And if not, I'll just order it out right! Their products are reasonably priced and top quality!
Now, I cannot express enough how easy these suckers are to make. It literally took me all of 5 minutes to make. I measured out the cereal and popped open the bag of marshmallows. I grabbed the butter out of the fridge and a microwave safe container. I used the 6 cup Pyrex container we have. I knew the marshmallows would need room to go in with the butter. And then I heated the butter. Once that was bubbling, I added the marshmallows. They took about a minute and a half to melt.
Once everything melted, I poured it over the cereal and stirred it all together. Then I tossed in the sprinkles, stirred again, and spread it into the pan. It took me longer to do the dishes after cooking them than it did to make them.
So, there is literally NO EXCUSE for you not to make these for your kids.
Big or little alike, it doesn't matter. The hubs loves a good cereal bar as much as any kindergartener. I keep meaning to make krispie treats with the Peeps we got for the spring sweets event we had. But, it's on the back burner. I mean, the marshmallows don't have to be the most fresh things on the shelf. You're going to melt them!
The cereal on the other hand shouldn't be from like last month. That should be fresh. So I have a fresh box of the store version of that krispie cereal in the pantry for that one day I remember to make them.
I've told you my brain is a sieve, right? I'm not kidding on that one. My memory isn't the greatest and never has been. That's why I write recipes like this one down in my calendar and my Wunderlist ideas tab. I love Wunderlist. You should try it! It can sync ALL your devices and computers. No matter where you are. I love that ap!
No, this is not a sponsored post for Wunderlist, either.
I hope you check out Sweets & Treats Boutique. They really do have some great sprinkles, quins, wrappers, bags; you name it. And make sure to enter the giveaway! You could win one of 5 prizes including one from Sweets & Treats Boutique.
Yield:

16 servings
Easy Peanut Butter Cereal Bars
It takes 5 minutes tops to make these Easy Peanut Butter
Cereal Bars.  Oh, and only 4 ingredients.  There's no reason you can't
have these waiting for the kids when they get home from school.
Ingredients
4 tablespoons butter
10 ounces marshmallows (I used the minis, but you can use any you want.)
6 cups peanut butter Cheerios (or other Cheerios or cereal of choice)
1/2 cup Sweets & Treats Boutique Quin Sprinkles ABC 123
Instructions
Place the butter in a microwave safe bowl. Heat on high 30 to 45 seconds until melted.
Add the marshmallows and microwave at 30 second intervals, stirring in between, until the marshmallows are melted and smooth.
Pour the marshmallow mixture over the cereal and stir to combine.
Fold in the alphabet quins.
Press into a 9 x 10 pan sprayed with cooking spray. Cool completely.
Slice and serve. Store in an airtight container 2 to 3 days, if they last that long.
Check out these #BacktoSchoolTreats recipes from our Bloggers:
Back to School Breakfasts:
Easy Breakfast Quesadillas from Simple and Savory
Orange Buttermilk Pancakes with Strawberry Sauce from Love and Confections
S'mores Breakfast Pastries from Family Around the Table
Back to School Snacks:
Carrot Cake Energy Balls from Frugal & Fit
No-Bake Caramel & Toffee Rice Crispy Treats from Hardly A Goddess
Unicorn Poop Snack Mix from The Beard and The Baker
Vanilla Bean Frozen Yogurt Drops from Tara's Multicultural Table
Back to School Desserts:
Brownie Cookies with Mascarpone Frosting from My Sweet Zepol
Chocolate Dipped ABC 123 Chocolate Chip Cookies from Big Bear's Wife
Easy Peanut Butter Cereal Bars from A Kitchen Hoor's Adventures
Maple No Bake Oatmeal Cookies from Kelly Lynn's Sweets and Treats
School Colors Cupcakes from The Redhead Baker
Streusel Coffee Cake from Jolene's Recipe Journal
Back to School Drinks:
Apple, Vanilla Bean, and Caramel Smoothie from Our Good Life
Caramel Apple Chai Latte from Comfortably Domestic
Caramel Apple Smoothie from Home Sweet Homestead
Hot Caramel Apple Cream from Daily Recipes
Pre Workout Caramel Apple Smoothie from A Day in the Life on the Farm
All week 30 bloggers will be sharing over 100 fantastic recipes for both parents and kids, with breakfasts, snacks, desserts, and drinks to get you back in the school routine. Thank you sponsors for providing the prize packages. Don't forget to enter the giveaway below!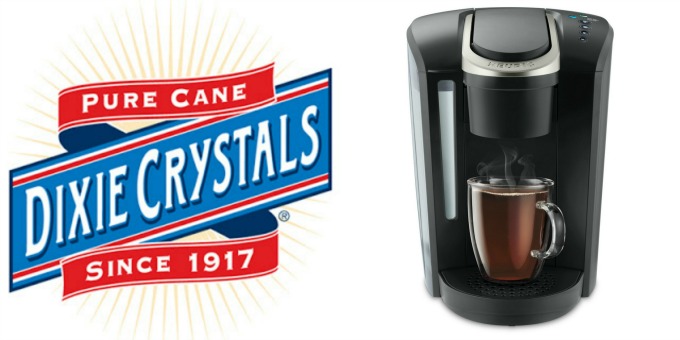 Dixie Crystals is giving one winner a Keurig K-Select Single-Serve K-Cup Pod Coffee Maker. Since 1917, Dixie Crystals® has been the South's choice for high-quality sugar and sweeteners. For generations, Dixie Crystals has been at the heart of family traditions and celebrations. Our pure cane, non-GMO sugar products guarantee that treasured family recipes will turn out right every time. Bake with love and Dixie Crystals.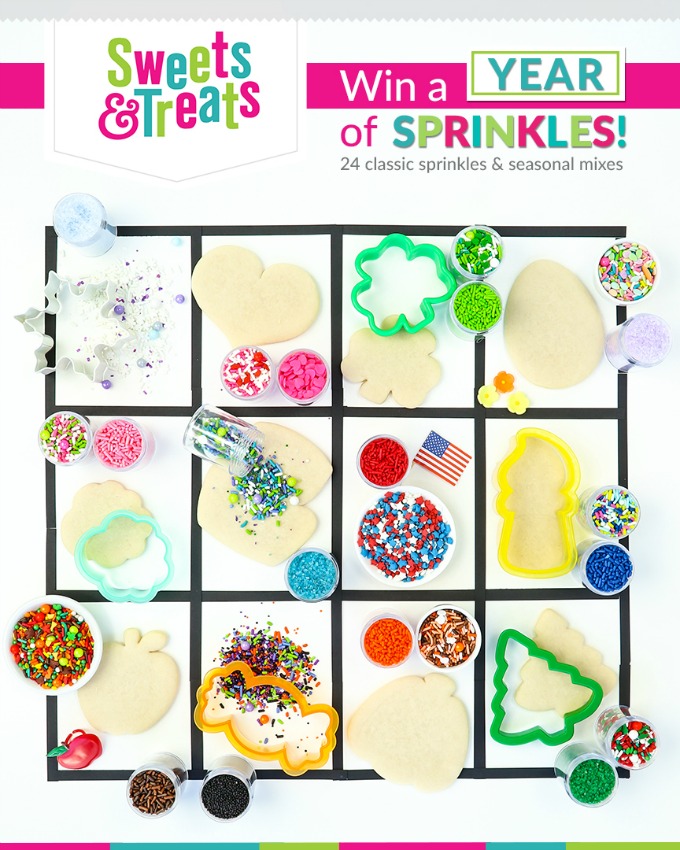 Sweets & Treats is giving one winner the Year of Sprinkles that contains holiday mixes, classic sprinkles, and some of their most popular sprinkles.
Sweets & Treats, a party and baking supplies manufacturer and wholesaler, started out of a baking industry need for truly grease-proof cupcake liners. From there, the company expanded into a handful of specialized categories including the latest, Sweet Sprinkles, their one of a kind sprinkles and sprinkle mix line. With hundreds of truly unique products, they are a one stop shop for your next party!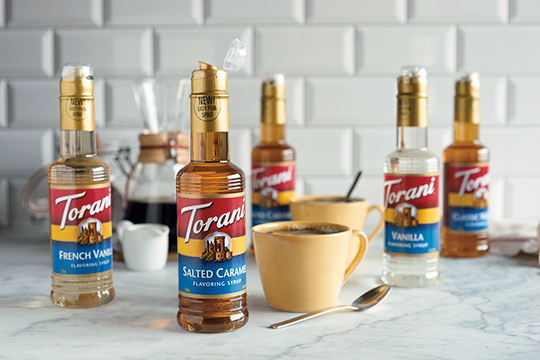 Torani is giving one winner a year supply of Torani: 12-750ml glass bottles, flavors will be winner's choice, plus pumps for each bottle.
We believe in flavor for all and opportunity for all.
In the beginning, Rinaldo and Ezilda Torre visited family in Lucca, Italy. They returned home to San Francisco with handwritten recipes, which they used to create authentic flavored syrups. Needless to say, the syrups we're a hit.
A lot has happened since then, but our belief has remained the same: Flavor for All, Opportunity for All. It means that not only are the products we make inclusive and approachable, but so is our success. We believe everything starts with people, and the only way to truly succeed is to succeed together. Today, you can use more than 100 of our naturally
flavored syrups, sauces and beverage bases
in coffees, sodas, teas, smoothies, cocktails and more.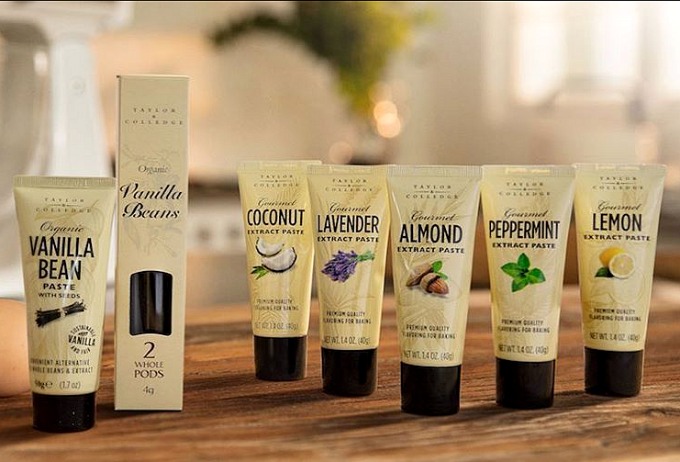 Taylor & Colledge is giving one winner a selection of their gourmet extract pastes, including Organic Vanilla Bean Baking Paste, Lavender Baking Paste, Almond Baking Paste, Coconut Baking Paste, Lemon Baking Paste, and Peppermint Baking Paste. Taylor & Colledge has been making award winning Vanilla products since 1897.
As a family owned business, Taylor & Colledge illustrates commitment to the fair, ethical and sustainable sourcing of Vanilla. Over the years they have pioneered a number of country specific programs to support growers, their families and to make the vanilla industry more sustainable. They have also taken this knowledge and expertise and applied it to their full range of baking pastes.
Whether it's sourcing the finest peppermint (mentha piperita) to make the best Peppermint Oil, or using only real Almond Milk and Oil of Bitter Almond for their natural Almond Extract Paste, Taylor & Colledge commits to transforming your baking with premium quality pastes, made with only the finest ingredients from around the world.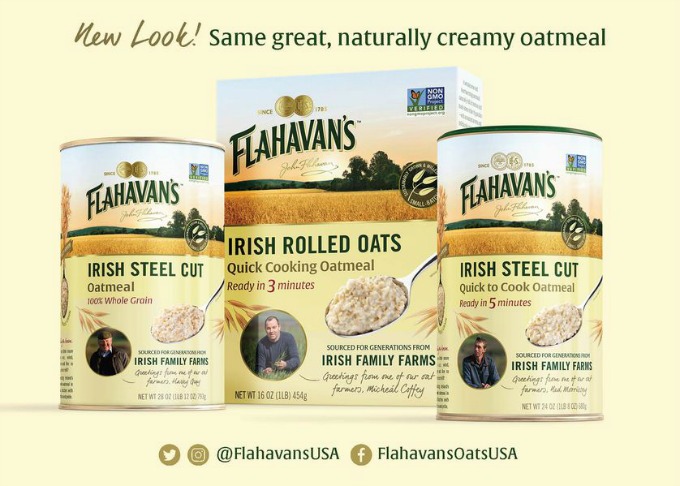 Flahavan's is giving one winner an oat prize package including a jar for overnight oats and a selection of Rolled Oats, Quick to Cook Oats, and Steel Cut Oats. Ireland's oldest family-owned food business is at the family mill located in the Southeast of Ireland. Flahavan's can trace its oat milling history back to 1785 and its expertise in producing naturally creamy oatmeal back over 230 years. A seven-generation family business, Flahavan's is the bestselling oatmeal brand in Ireland, where people eat more oatmeal per capita than anywhere else in the world. Flahavan's is a founding member of Origin Green, the first-ever national initiative to mandate 100% sustainability for food exports.
Thank you to #BacktoSchoolTreats Sponsors:
Dixie Crystals, Sweets & Treats, Torani, Taylor & Colledge, and Flahavan's for providing the prizes free of charge. These companies also provided the bloggers with samples and product to use for #BacktoSchoolTreats recipes. All opinions are my own. The #BacktoSchoolTreats giveaway is open to U.S. residents, age 18 & up. All entries for the winner will get checked and verified. By entering you give the right to use your name and likeness. The number of entries received determines the odds of winning. There are five (5) winners selected.
Sponsors will send the prize packages directly to the winners. Winners have 48 hours to respond once chosen, or they forfeit the prize and alternate winner(s) get selected. The #BacktoSchoolTreats Bloggers are not responsible for the fulfillment or delivery of the prize packages. Bloggers hosting this giveaway and their immediate family members in their household cannot enter or win the giveaway. No purchase necessary. Void where prohibited by law. This promotion is in no way sponsored, endorsed or administered by, or associated with Facebook, Instagram, Pinterest, Twitter or any other social channel mentioned in the #BacktoSchoolTreats posts or entry.