Um…y'all don't know me. Well, other than the work rants and snarkdom, y'all don't know me. I'm trying to change that. So…I'm hooking up with Dawn and friends for this series…I hope. There's not a whole lot of these types of "get to know your blogger" that doesn't involve being a mom, which I'm not. So, hopefully, I can just evade those types of Qs or relate them to being a fur-mommy.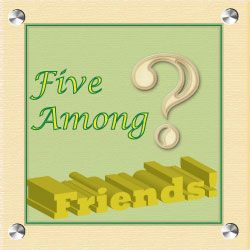 Questions:
1. Who is the person that made you do the dumbest thing? What was it?
My sister. She's the ONLY one that has been able to convince me to do stupid chit. To other people I'd just, "That's stupid. Why would I do that?" But to her, I was all about being cool with my big sis. I don't remember anything lately. We haven't been all that close, but the STUPIDEST thing I did was when I was a whopping 5 I think? Our dog had heart medicine gel caps and she convinved me to bite it to feel the gel in the capsule. Then she said I wasn't biting hard enough, so I did. This ended up with Mom and Dad washing my eyes out with water. *sigh*
2. What was the FIRST job you ever had?
WOW. Like real job? I worked at a snack bar in a recreational facility. Many fun times in that place!! Not to mention the free popcorn, hot dogs, candy bars, nachos, fries. LOL AND the hot firemen that would work out there.
3. When do you relax and how do you do it?
Relax? It's over rated!! Relaxing for me is either cooking/baking or knitting. I have issues with sitting still and doing NOTHING besides reading or watching TV. My mind starts to make lists of all the things I SHOULD be doing instead.
4. Where was your most memorable date? Who was it with?
I haven't had a lot of dates. Surprising, I know!! BUT the most memorable was with S. For those that DON'T know I met him online. Playing Yahoo poker. It was one of those I-have-to-meet-this-guy things so I drove to Cleveland from DC Friday night to meet him. He took me a Mexican restaurant Saturday. It was chilly, but I was hell bent on wearing this sundress I bought that I LOVED and still do. He has admitted to not liking, so I RARELY wear it now.
The margaritas were good. The company was AWESOME! We just talked and talked and talked. I had mole. YUM! Can't remember what he had. I was too focused on watching him than what was on his plate. It was the first of many excellent dates that are still happening. 🙂
5. Why do you blog?
Because I have some interesting ideas in my head and just like to share. So I can get my words out there and see if others are in the same boat. To NOT kill people? LOL To get encouragement to be more creative and have people say, "That looks yummy!" To force myself to BE more creative and not just write about a recipe I tried. Half the time, I wasn't following the recipe anyway. LOL To be inspired and hopefully inspire others.
So, I'd love for you to participate! Leave me the link to YOUR answers in MY comments and I'll stop by. Also, check out theses other great answers:
Please check out these great friends!