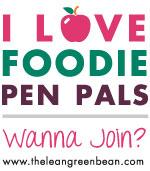 YAY! I was sending to Caitlin and recieving from Blair. For the LIFE of me I cannot find Blairs blog addy. Hopefully she will chime in so I can link to her here.
Anyway.
She sent me some cool ingredients and some awesome nibbles!!
Yup. That's wasabi chick peas! Saffron Road Wasabi Chickpeas to be exact. I can't wait to try these out. I have tried making roasted chickpeas once. Yeah. No.
And there's arrowroot powder, which is kind of funny. I've had some recipes earmarked to make, but haven't beacuse they called for arrowroot powder and JUST couldn't buy a bag for a few tablespoons. Well, now I have my own bag! YAY! It's such a versatile unique item and I can't wait to try using it in my recipes and to make new ones with i.
And…um. PROBIOTIC CHOCOLATE! Seriously? I had NO idea that exists. Chocolate that's good for you! Who knew? *shrugs* 10 billion probiotics in every bar! Well. That's gonna make me one regular person for…a day or two. LOL
Underneath the chocolate is a baggie of protein powders, carob, and cacao. Again. Always wanted to make some protein bars, but didn't want to buy a container and be stuck if I didn't like it. GET OUTTA MY HEAD! LOL
Along with the exciting ingredients, there was a lovely hand written note and two recipes that incorporate some of the items that she sent me in the package.
Yet again, another wonderful Foodie Penpals package that I can't wait to sample and cook with!
I wonder what goodies are in store for me next time?
Want to get in on the fun? Want food sent to ya in the mail? Well, then. SIGN UP!