Yup! It's a BOGO reveal day on AKHA. This freebie is my Foodie PenPals Reveal! And let me tell you, I've got some pretty tasty treats in my box this month!
What reveal day you ask? Well the Foodie PenPals reveal day! DUH! What's Foodie Pen Pals you ask? Well, it just the COOLEST PEN PAL PROGRAM ON THE BLOGOSPHERE! At least I think it is.
Lindsey from the Lean Green Bean has a Foodie PenPals program. You mean you don't know about it?? SHAME ON YOU! Just kidding…or am I??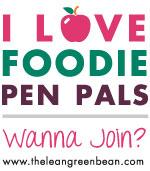 Once a month, you sigh up here for the Foodie Pen Pals program. You have to sign up by the 4th of the month to get on the list sent out on the 5th of the month. Then on the 15th of the month, you send a box full of tasty vittles to your pen pal. If you're lucky, you make a friend. If not, you at least get a box of goodies to eat. BUT the point of the program is to MAKE FRIENDS!! Just saying.
Ugh. This month. Between the snow, getting REALLY sick – like slept almost all day sick – it' just not been the best of months. I haven't been that sick in YEARS! It was horrible. Thankfully, it was gone in about a week, but a rough week it was. I was total sloth that weekend, too, which happened to be mailing FFP weekend. Then it snowed Monday. Then I was lead astray by a "helpful" person at USPS and wound up having to redo the whole postage thing when it got returned. Seriously. March can suck it.
This month, I was paired up with an adorable newbie Abbey. If I could bottle the energy she gives on her emails, I'd be rich. She works 3 jobs. Three. T.H.R.E.E! I have issues with just the one. But then again, I am old.
She sent me a bunch of breakfast stuffs. Which is awesome. I LOVE breakfast. LOVE LOVE breakfast. And I love oatmeal, even though I didn't eat as much of it this winter than I usually do. I just kept forgetting to make it. Which sucks because I LOVE steel cut oats in my new rice cooker. Yes. My rice cooker has a "porridge" setting that makes my oatmeal for me. Yeah. I know. And Yes, I did keep forgetting to put it IN the pot for it to make it for me. I've said it before. My brain is a sieve.
I received three packets of Quaker oatmeal in flavors I haven't tried or eaten in a while. Those will be heading to work just in case my milk goes sour. Yes, this has happened! Or I completely forget milk entirely and don't want to eat dry cereal for breakie.
Then there's the granola and granola squares. I've had two of the squares already. They are at work for PM nibbles.
She threw in some craisins. LOVE THOSE! And some homemade hot chocolate and protein shake mix. Now the protein shake mix? Not sure about that, but I'll definitely try it. I haven't had any of that stuff ever. So, while I'm hesitant to try it, I will with an open mind and who knows? I might find a new product that I like and will use. That's what this program is about! I'm still trying to find those black bean chips from last month's sender…
I can't wait to see who I meet next month in
FPP
. You really should join us! It's so much fun and you get to learn about new products that you might not have tried on your own, or gotten to try as they might be regional faves for that person.