Lightning Lavender Margarita has the perfect ratio of sweet to sour with a hint of lavender flavor. The lightning comes from the American whiskey combined with the tequila.
This post is sponsored in conjunction with #BrunchWeek. I received product samples from sponsor companies to aid in the creation of the #Brunchweek recipes. All opinions are mine alone.
Can you believe #BrunchWeek is here again? I cannot believe it's been a year since the last one. And I feel like it snuck on us even though planning has been in the works for a while now. Sponsors to contact and pitch to, participants to select, and recipes to draft. For me, I think planning for this event is almost all year long.
There's a great selection of bloggers and recipes this year. Of course, I say that every year because it's true every year! This year will not disappoint. They're always bigger and better than the year before. I became hooked after my first year. The sponsors, working with Terri, and putting my HTML skills to good use is always fun times for me!
And it's the 7th year!! I haven't participated in every year, but I have in the last 4 years. And quickly rose to co-host. I do the back-end work of coding, tracking, and updating code. I make sure all the elements are in each post, every blogger meets the requirements for a sponsored post, and find missing social shares.
All this makes for better pitches next year. While I'm not on the front end chatting with brands, I'm on the back end compiling the information to send to them. And checking to make sure it's accurate and all the links open properly.
I know. Y'all want to find out about this cocktail and not my reminiscing about Brunch Week participation.
This is the year I'm stepping up my cocktail game for A Kitchen Hoor's Adventures. I've shared one from a local distillery. That was fun! I learned all about their processes and different liquors. And, of course, I got to taste all the different strengths of their rye, whiskey, and bourbon. Just as an FYI, I liked their cask strength rye; the 124 proof.
So, I've had a bottle of their American Whiskey just sitting around. I've been sipping on it from time to time, but really wanted to make a cocktail with it. It just has that blend-able characteristic that almost requires you mix it up with something.
When I found out we were getting Torani syrups again this year, I knew I had my chance to make a delicious cocktail perfect for brunch. The selection of flavors this year were bright and perfect for spring! I chose lavender and peach. Because, I cannot say no to anything peach. And because I knew the delicate lavender flavor would pair well with the American Whiskey.
Now, the American Whiskey is almost like a moonshine style whiskey. So it's got a punch. The lavender syrup is sweet and light and refreshing. But I needed something to meld the two together. Something that would complement the sweet and tone down the kick. Something citrus. Why not a margarita??
A lavender margarita!!
So where does the lightning come from? Because the American Whiskey was initially called Virginia Moon White Whiskey. Because it's a white whiskey that pays homage to the Blue Ridge tradition of distilling. That's what most would consider moonshine, which is also called white lightning.
Yes, it's a bit of a stretch, but I'm sure most can get there without me really explaining it. I just thought I'd go ahead and explain just for your convenience.
My taste buds paid off! The lime juice brightens the lavender syrup. The fresh lime juice complements the kick of the tequila and the American whiskey. This Lightning Lavender Margarita is one delicious and super simple cocktail!!
I can never understand why some order margaritas out at a restaurant. You're charged an INSANE amount for something you can toss together at home. If you can juice a lime and shake it together with some syrup and tequila then you can make margaritas.
Even rimming the glasses in salt is easy, too. Not to mention they're MUCH better homemade. At a restaurant they're RARELY made with fresh lime juice. It's typically some type of super syrupy and artificial tasting mix.
At home, it's lime juice, simple syrup, and tequila. Or in this case, lime juice, lavender syrup, American whiskey, and tequila. And not to worry if you don't have KO Distilling American Whiskey handy. You can use a moonshine or just use all tequila. It will still taste amazing.
This year we also have Sweets & Treats as a sponsor. Their sprinkles, decorations, and paper products are super cute! When I picked the lavender syrup, I had to find purple sprinkles to go with it! I knew I was going to make a cocktail and/or macaron. Or both in this case.
The purple sugar is the perfect color and adds to the sweet tart flavor of this margarita. I know. It's typically salt. And you can do salt. But, I really liked the sugar!! It was a surprise. Well, not for me, but you know what I mean. The sugar made this drink even more addictive.
And I'm not ashamed to admit I drank them both!
And contemplated making a couple more! This lightning lavender margarita will be your new fave rita. Shake them up for brunch, when friends are over, or just because they're easy and delicious.
Just look at that color! Who wouldn't love to dive into this after not only seeing them, but finding out they're lavender? I don't know about you, but I haven't seen ANY lavender margaritas on a menu at a restaurant. Have you?
And just look at those gorgeous glasses! They're just stunning. All the JoyJolt glassware is stunning. They're nice and sturdy. They fit in your hand perfectly. These glasses have a geometric design on the bottom I just fell in love with.
I think I'll just leave that right there for you to contemplate. And then you can head over the Torani and Sweets & Treats to get the ingredients to make these lightning lavender margaritas at home for Mother's Day or your next brunch party. OR take the ingredients to a brunch party. Either way, they'll go fast to buy a double batch of everything.
Get a head start for the giveaway below and follow Torani on Facebook, Instagram, Twitter, and Pinterest. Feel free to do the same for Sweets & Treats. Follow them on Facebook, Instagram, Twitter, and Pinterest. Finally, check out these and other gorgeous glasses from JoyJolt. Follow them on Facebook, Instagram, Twitter, and Pinterest.
Lightning Lavender Margarita
Lightning Lavender Margarita has the perfect ratio of sweet to sour with a hint of lavender flavor.  The lightning comes from the American whiskey combined with the tequila.
Ingredients
1 ounce white whiskey
1 ounce tequila
1 1/2 ounces Torani lavender syrup
3/4 ounce lime juice
Instructions
Combine all ingredients in a cocktail shaker filled with ice. Shake until chilled; about 30 to 60 seconds.
Fill an old fashioned glass (or margarita glass) with ice.
Using a strainer, pour over ice into the old fashioned (or margarita) glass and serve.
Notes
This recipe is intended for individuals ages 21 & up. Please drink responsibly.
Recommended Products
As an Amazon Associate and member of other affiliate programs, I earn from qualifying purchases.
Take a look at what the #BrunchWeek Bloggers are creating today!

BrunchWeek Beverages:
Blueberry Lemonade from Family Around The Table
Easy Smoothie Shooters from The Nifty Foodie
Fresh Squeeze Blackberry Lemonade from Cooking With Carlee
Guava Mimosas from Seduction in the Kitchen
Guava Moscow Mule from Love and Confections
Lightning Lavender Margarita from A Kitchen Hoor's Adventures
Mango Mimosa from April Golightly
Rum Punch for Brunch! from Hardly A Goddess
Sparkling Lavender Lemonade from Snacks and Sips
Strawberry Lavender Smoothie from Eat Move Make

BrunchWeek Appetizers and Salads:
Keto Chicken Salad from Platter Talk
Pecan Grape Salad from For the Love of Food

BrunchWeek Egg Dishes:
Baked Eggs with Mushroom and Asparagus from Caroline's Cooking
Baked Hash Brown Egg Cups from Creative Southern Home
Breakfast Pizza from Kate's Recipe Box
Cheesy Scrambled Egg Stuffed Popovers from Jolene's Recipe Journal
Fried Green Tomato BLT Benedicts from The Spiffy Cookie
Ham, Egg, & Spinach Breakfast Bites from Sweet Beginnings
Sausage, Egg, and Cheese Breakfast Bake from Hezzi-D's Books and Cooks
Sheet Pan Mexican Frittata from Strawberry Blondie Kitchen
Soy-Brined Hard-Boiled Eggs from Shockingly Delicious
The Best Avocado Toast from Simply Healthyish Recipes

BrunchWeek Breads, Grains, and Pastries:
Chocolate Chip Cream Cheese Stuffed Muffins from Big Bear's Wife
Funfetti Cinnamon Rolls from Cookaholic Wife
How to Build A Crepe Bar from The Crumby Kitchen
Salted Caramel Peach Sweet Rolls from The Redhead Baker

BrunchWeek Main Dishes:
Cheesy Baked Breakfast Tacos from Rants From My Crazy Kitchen

BrunchWeek Fruits, Vegetables and Sides:
Zucchini Cheese Pancakes from Karen's Kitchen Stories

BrunchWeek Desserts:
Chocolate Banana Cookies with Sprinkles from Who Needs A Cape?
Cinnamon Roll Cake from Books n' Cooks
Espresso Banana Bread from PasstheSushi
Spring Blooms Cake from The Mandatory Mooch
Vegan Coffee Cinnamon Rolls from The Baking Fairy
Welcome to #BrunchWeek 2019 hosted by Love and Confections and A Kitchen Hoor's Adventures! This is our 7th year of #BrunchWeek and we have 35 bloggers from around the country sharing over 140 of their best Brunch recipes. We have so many delicious recipes for you to enjoy throughout the week including cocktails, appetizers, casseroles, cinnamon rolls, breakfast pizzas, coffee cakes, plenty of desserts, and more! Our BrunchWeek Sponsors are helping us give away some great prizes. Thank you so much, Sponsors, for your generosity. We have an incredible giveaway below and we'd love if you would take a moment to read about it and what you can win!  
Dixie Crystals is giving one winner a Keurig K-Select Single-Serve K-Cup Pod Coffee Maker. Since 1917, Dixie Crystals® has been the South's choice for high-quality sugar and sweeteners. For generations, Dixie Crystals has been at the heart of family traditions and celebrations. Our pure cane, non-GMO sugar products guarantee that treasured family recipes will turn out right every time. Bake with love and Dixie Crystals.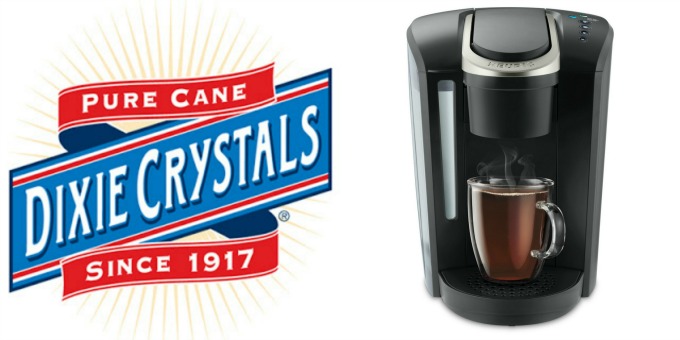 Cabot is giving one winner a gift box of assorted Cabot cheeses. The farm families that own Cabot Creamery Co-operative love what they do. And they've been doing it for a long time—every single day since 1919. Almost 100 years later, we're proud of our thriving farms, strong communities, and happy, healthy cows that produce the rich, buttery milk that we use to make Cabot's award-winning cheese and dairy products. We like to think those awards mean we're doing something right. Of course, you're a big part of this too. If you love eating our cheese as much as we love making it, then we'll get to keep doing what we do for generations to come.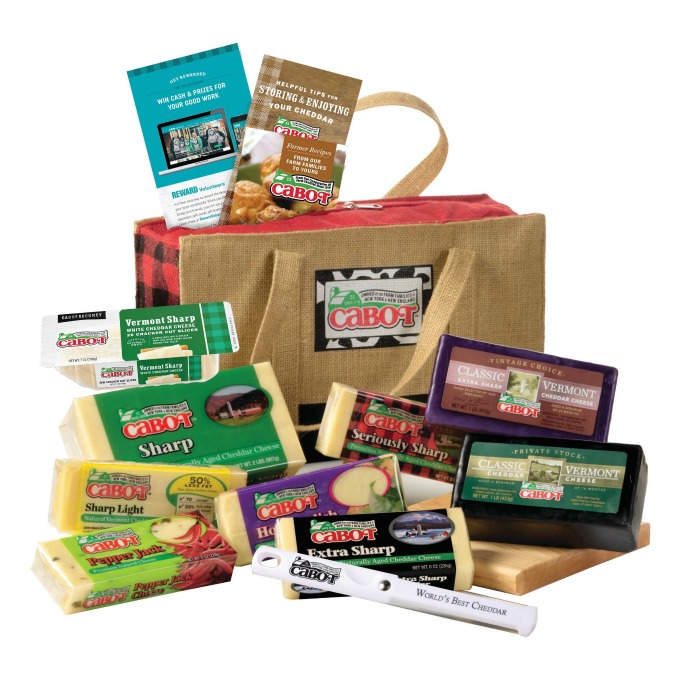 Joyjolt is giving one winner a Carre Crystal Glass Cake Holder. Limited edition of 500 in the exclusive series. Made out of 100% high quality crystal. DRINK WITH JOY. ENJOY THE JOURNEY.
Here at
JoyJolt
we believe that so many of the moments you enjoy most include raising a glass. From the jolt you get from that first sip of coffee in the morning to toasting a milestone with close friends. That's why we have created glassware equally as special and unique as your happiest moments.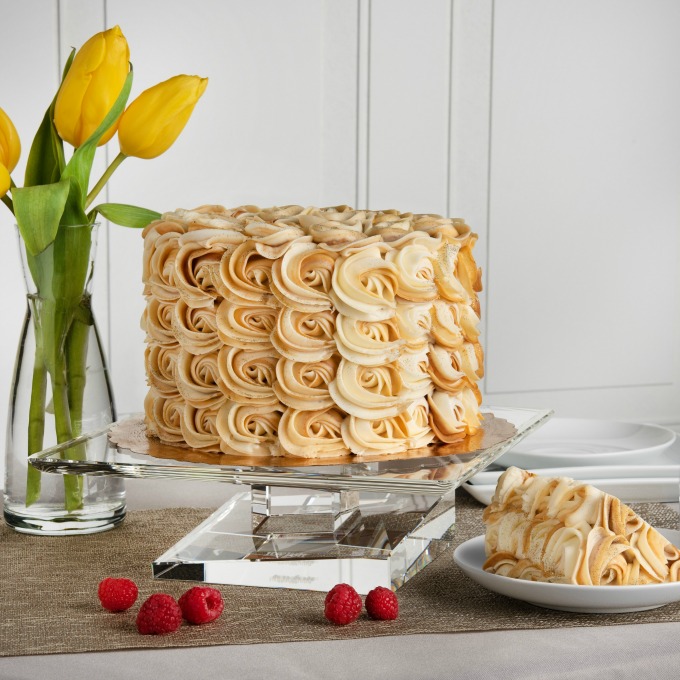 Sweets & Treats is giving one winner the Year of Sprinkles that contains holiday mixes, classic sprinkles, and some of their most popular sprinkles, assorted cupcake liners, and the My Little Pony Baking Book.
Sweets & Treats
, a party and baking supplies manufacturer and wholesaler, started out of a baking industry need for truly grease-proof cupcake liners. From there, the company expanded into a handful of specialized categories including the latest, Sweet Sprinkles, their one of a kind sprinkles and sprinkle mix line. With hundreds of truly unique products, they are a one stop shop for your next party!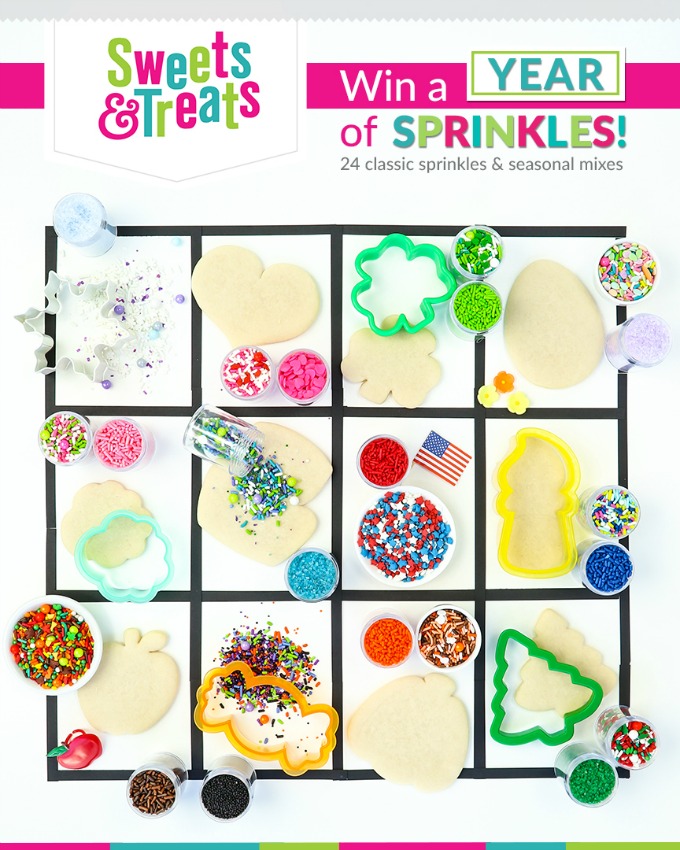 Torani is giving one winner a year supply of Torani: 12-750ml glass bottles, flavors will be winner's choice, plus pumps for each bottle.
Torani inspires you to taste life, one flavorful experience at a time. Even though people all over the world recognize our iconic Torani bottle, we've remained a family-owned company — adhering to the high quality standards that Rinaldo and Ezilda set over 90 years ago. Each and every syrup, sauce, and smoothie is created with care and pride. Way back we started with just five syrups. Today, you can use more than 100 of our naturally
flavored syrups, sauces and beverage bases
in coffees, sodas, teas, smoothies, cocktails and more. And we're excited to bring you new taste traditions and flavors as we move forward.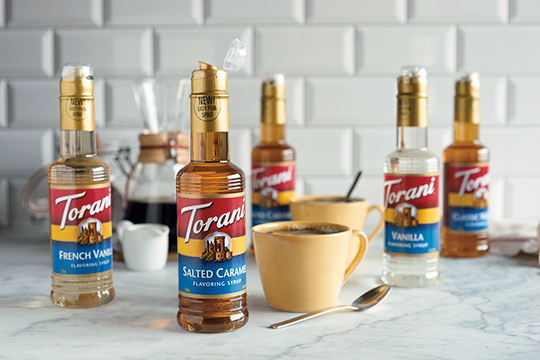 PRIZE#6 COOKBOOK SET
Sarcastic Cooking is giving a copy of her book, Quick Prep Cooking with Your Instant Pot – 75 big-flavor dishes that require minimal work
Dessert for Two is giving a copy of her book, Dinner Just for Two – a cookbook that inspires couples to get into the kitchen together
Sweet Phi is giving a copy of her book,
Baby Food Maker Cookbook – 125 Fresh, Wholesome, Organic Recipes for Your Baby Food Maker Device or Stovetop
The Little Ferraro Kitchen is giving a copy of her book,
The Weeknight Mediterranean Kitchen – 80 Authentic, Healthy Recipes Made Quick and Easy for Everyday Cooking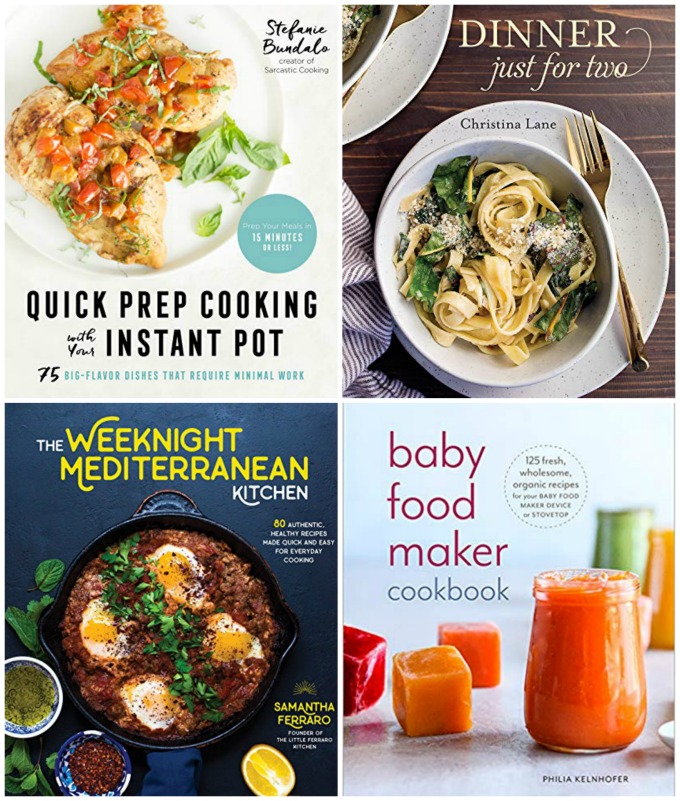 This recipe is intended for individuals ages 21 & up. Please drink responsibly.  Thank you to #BrunchWeek Sponsors: Dixie Crystals, Cabot Cheese, Joyjolt, Sweets & Treats, Torani, Sarcastic Cooking, Dessert for Two, Sweet Phi, and The Little Ferraro Kitchen for providing the prizes free of charge. These companies also provided the bloggers with samples and product to use for #BrunchWeek recipes. All opinions are my own. The #BrunchWeek giveaway is open to U.S. residents, age 18 & up. All entries for the winner will be checked and verified. By entering you give the right to use your name and likeness.
The number of entries received determines the odds of winning. Six (6) winners will be selected. The prize packages will be sent directly from the giveaway sponsors. Winners have 48 hours to respond once chosen, or they forfeit the prize and another winner(s) will be chosen.
The #BrunchWeek Bloggers are not responsible for the fulfillment or delivery of the prize packages. Bloggers hosting this giveaway and their immediate family members in their household cannot enter or win the giveaway. No purchase necessary. Void where prohibited by law. This promotion is in no way sponsored, endorsed or administered by, or associated with Facebook, Instagram, Pinterest, Twitter or any other social channel mentioned in the #Brunchweek posts or entry.