It's REVEAL TIME! Reveal for what?? For the….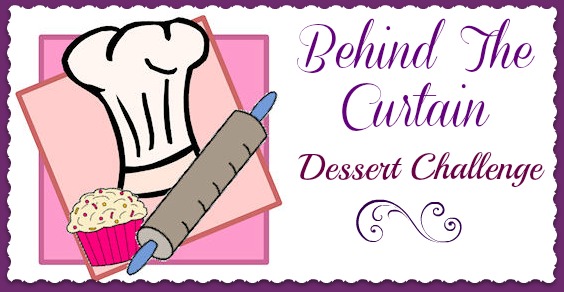 Yes. After putting this on my calendar for the last few months I was FINALLY organized enough to actually participate in it!! Trust me. It's on my calendar from here on out and I will make sure it's on there for next year, too. I haven't done enough sweets baking lately. Of course, that may all change after this weekend, but you'll have to wait to find out about that!!
So, the 411? The Lady Behind the Curtain, a.k.a. Sheryl, has this dessert challenge. The first 10 months of the year, she selects 2 ingredients and your job, should you chose to accept it, is to create a dessert using those two ingredients. But you can read all about it
Here.
This month, it was white chocolate and Peeps. I love the look of Peeps, but I'm not really a huge fan of the whole marshmallow-by-itself thing. I love them melted in treats. That's about it. Since I didn't really feel like making some purple treats, which could have been kind of interesting, I went the other route and did a take on rocky road! You know, that stuff that's slathered in chocolate and filled with marshmallows and nuts? That stuff?
And since I've been dying to make some brownies – No, I didn't get my fix with the SRC reveal – I decided to whip up some blondies for my white chocolate rocky road. But not just any ole blondies. OATMEAL blondies. Hearty, tasty, delicious Oatmeal Blondies!
I know what you're thinking, "They're heavy!" Nope. They're not. "They're hard as a brick!" Nope. They're not! Heck, even I thought that when I first cut into them. "Uh oh. These look dry." But they weren't!! They were light and tasty with just enough sweetness to make it feel like a dessert, but not kill you with all the sugary sweetness that white chocolate has to offer. Which is one of the main reasons I don't like white or even milk chocolate; TOO SWEET!
I couldn't resist the purple Easter grass. Though, now I wish I did. MAN! That stuff is just UNRULY! Maybe I can convince of the cowork-peeps to adopt the rest of my grass. OR I guess it can go in the prop bin. If there were such a thing… Considering they've eaten almost all the bars, I think they were a success! Hopefully, I'll be organized enough to participate in next months' challenge. It's strawberries and cream cheese for Mother's Day!! Maybe strawberry macaron with cream cheese filling? *shrugs*
Oatmeal Blondies with Rocky Road Topping
Ingredients
2 tablespoons margarine
2/3 cup unsweetened applesauce
1/2 cup sugar
1/2 cup brown sugar
1/2 cup egg substitute
1/2 teaspoon vanilla extract
1/2 teaspoon ground cinnamon
1/4 teaspoon baking powder
1/4 teaspoon baking soda
1/4 teaspoon salt
1 1/2 cups all-purpose flour
3/4 cup old fashioned oats
1 cup white chocolate chips
1/2 cup walnuts
2 cups marshmallows (or Peeps)
1 cup white chocolate chips
1/3 cup fat free half and half
Instructions
Preheat oven to 350.
In a microwave safe dish, combine the first three ingredients (margarine through chips). Heat on high 1 minute. Stir. If the chips are not melted, heat at 30 second additional intervals, stirring between each, until they have melted. Pour the mixture into a large mixing bowl and add sugar and brown sugar, stirring until combined. Allow to sit 5 minutes.
Combine the baking powder, baking soda, salt and flour in a small mixing bowl and stir with a whisk to combine. Set aside.
Add the egg substitute and vanilla extract to the sugar mixture along with the cinnamon.
Gently stir in the flour mixture until just combined then fold in the oats.
Pour into a 9 x 9 baking pan coated with cooking spray and bake for 25 to 30 minutes or until a toothpick inserted in the center comes out clean. Cool in pan 5 minutes, then remove to a wire rack to cool completely.
Once cooled, sprinkle the walnuts and marshmallows evenly over the top. If using Peeps, cut them into bite sized pieces with scissors or kitchen shears coated with cooking spray to prevent them from sticking.
Place the remaining chips and the half and half in a small, microwave safe, bowl and heat on high one minute. Stir. If the chips are not melted, heat at 30 second additional intervals, stirring between each, until they have melted. Once they are completely melted, slowly pour over the walnuts and marshmallows making sure to evenly coat the top.
Slice into 16 squares and serve.