Oven-Roasted Beef Brisket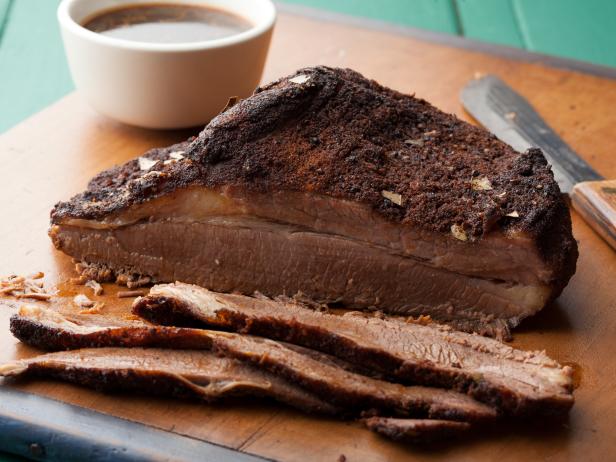 Oven-Roasted Beef Brisket
Tom Perini
I can't tell you how much I LOVE this recipe. I DO NOT serve the sauce, as I think it's too salty by the time the meat is cooked. By braising the brisket with beef broth, it makes it nice and juicy and just falls apart when you slice it. It's making me HONGRY just thinking about it.
2 tablespoons chili powder
2 tablespoons salt
1 tablespoon garlic powder
1 tablespoon onion powder
1 tablespoon ground black pepper
1 tablespoon sugar
2 teaspoons dry mustard
1 bay leaf, crushed
4 pounds beef brisket, trimmed
1 1/2 cups fat-free beef broth
1. Make a dry rub by combining chili powder, salt, garlic and onion powders, black pepper, sugar, dry mustard, and bay leaf. Season the raw brisket on both sides with the rub. Place in a roasting pan and roast, uncovered, for 1 hour at 350.
2. Add beef stock and enough water to yeold about 1/2″ of liquid in the roasting pan. Lower oven to 300, cover pan tightly and continue cooking for 3 hours, or until fork-tender.
3. Trim the fat and slice m,eat thinly across the grain. Top with juice from the pan.