Using a protein rich pancake mix, these Pancake Tacos are full of flavor, energy, and delicious banana topping!  They're perfect for breakfast or an after school/work pick me up.
I received samples from Taylor & Colledge and Torani for this #BacktoSchoolTreats week recipe. All opinions are mine alone.
It's the last day of #BacktoSchoolTreats week. Did you all have as much fun as we did? I hope so. And I hope that you have saved some delicious treats to make your family. You don't even have to wait until school starts to make them. I suggest making some this weekend!
I mean, you need to test them out right?
I made hot chicken and pancake tacos a little while ago. It was a take on Nashville hot chicken. And, it was the first time I even thought about pancake tacos. But it's not the last time I'm thinking about them, which you can obviously see.
You can fill pancake tacos with pretty much anything! They can be a snack, breakfast, lunch, dinner, and even dessert. Oh, and definitely an appetizer, too!!
Just think about it. Fill some scallion pancake tacos with Peking duck or some make some basil pancakes with sliced tomatoes and mozzarella. Top the tacos with some hot dogs, chili and cheese. Okay, that sounds like lunch one day.
Make some buckwheat pancakes and top them with shredded chicken and barbecue sauce and garnish with slaw. Or some oat pancakes and sloppy Joe mix. You see what I mean? Pancake tacos are the new avocado toast; or so I've read.
I see those wheels turning!
And there's countless ideas for breakfast pancake tacos. You could totally do a brunch taco breakfast bar! Scrambled eggs, bacon crumbles or sausage (or both), cheese, tomatoes, onions, salsa, sour cream would be perfect on a pancake taco bar. And you could make the pancake tacos before hand and warm up the day of. Easy peasy!
The trick with making sure you get more of a taco style pancake is to thin the batter out. You don't want the pancakes to be super fluffly like you would if you were eating them regularly. I added a little extra milk to my pancake mix which made them thinner but not too thin. If they're too thin then you won't be able to stuff it full of topping goodness.
I used a protein based Krusteaz buttermilk pancake mix. I had it one hand and it's quite tasty. Feel free to use whatever pancake mix or recipe you want. Just make sure to add more milk for thinner pancakes. So, if you're recipe calls for one cup, I'd add an extra 1/4 cup of milk. That should do it. But you'll have to do a few test runs to make sure they're not too fluffy.
Pancake tacos look like a scallion pancake and buttermilk pancake had a baby. They're not too thick and not too thin. They have a little fluff, but not so much that you can't stuff it with toppings. If that helps with a visual at all.
Since I received some delicious Torani caramel sauce, I had to make some sauteed bananas to go with these delicious pancake tacos. I was going go for something kin to a bananas Foster, but without the alcohol. And that's sort of what I ended up with. Not to mention they sauteed up in minutes.
I added the Torani syrup to the pan with the bananas and also used it it to garnish the tacos before serving. It's versatile that way. And also made me think of making a dessert pancake taco sundae.
Can you imagine that?
Pancake taco bottom, some scoops of ice cream on top, bananas, caramel, whipped cream, nuts. I'm drooling. I think I know what we're having for dessert this weekend. Because now I really want to see if that would actually work. It could take the place of the waffle cone bowl, but you'd still have to put it in a bowl.
Just thinking out loud on this one.
Especially after seeing how this recipe turned out. And the caramel sauce drizzle over the top. Yes, they taste as good as they look. The pancakes aren't too sweet. They have the hyped up vanilla flavor making them even more delicious.
Then there's the banana topping. It's sweet from the bananas with a little added sweetness from the caramel sauce. But it's really just the bananas making them sweet. I didn't want this to hurt your teeth when you eat it.
You know what I mean by that, right? So sweet it actually makes your teeth hurt?
Anyway, this is not like that. Kids don't need all that sugar. And since there's protein in the pancakes, these pancake tacos would not only be great for breakfast, but also a great pick me up after school, too. Or after work for busy parents. Yes, you can eat pancake tacos, too!
Since they whip up in no time (especially if you have the pancakes ready made) they're a great snack for everyone in your family. Or a hearty breakfast for all your loved ones.
Don't forget to enter the giveaway! There's 5 great prizes to win. Including one from Torani and one from Taylor & Colledge. Since you're down there, see what the rest of the gang put together for the last day and check out all the recipes from the week while you're at it.
Pancake Tacos
Using a protein rich pancake mix, these Pancake Tacos are full of flavor, energy, and delicious banana topping!  They're perfect for breakfast or an after school/work pick me up.
Ingredients
1 cup Krusteaz Protein Buttermilk Pancake Mix
1 cup milk
1 large eggs
1 teaspoon Taylor & Colledge vanilla bean paste
2 to 3 tablespoons butter, melted
4 large bananas, sliced
2 tablespoons butter
4 tablespoons Torani caramel sauce plus more for garnish
Instructions
Combine the pancake mix with the milk, egg, and vanilla bean paste until just combined.
Heat a skillet over medium heat. Brush some butter in the pan before pouring 1/4 cup of the batter into the pan.
Cook until bubble on top and golden brown underneath. Turn the pancakes over and cook until lightly browned on the other side.
Continue cooking the pancakes until you have used all the batter.
Return the heat to the pan.
Add 2 tablespoons of butter to the pan. Once the butter is melted and bubble, add the bananas.
Saute until soft. Stir in 2 tablespoons caramel sauce and saute a few minutes more.
Place the pancakes in a taco holder. Top with the bananas and an additional drizzle of the caramel syrup and serve.
Check out these #BacktoSchoolTreats recipes from our Bloggers:
Back to School Breakfasts:
Cinnamon Apple Baked Oatmeal from Jen Around the World
Pancake Tacos from A Kitchen Hoor's Adventures
Back to School Snacks:
Banana Sushi from Simple and Savory
Cookie Monster Muddy Buddies from The Redhead Baker
Back to School Desserts:
Caramel Apple Oatmeal Skillet Cookie from Home Sweet Homestead
No-Churn Cheesecake Ice Cream from Love and Confections
Back to School Drinks:
Apple Pie Latte from The Beard and The Baker
Caramel Apple Mocktail for the Kiddos! from Jen Around the World
All week 30 bloggers will be sharing over 100 fantastic recipes for both parents and kids, with breakfasts, snacks, desserts, and drinks to get you back in the school routine. Thank you sponsors for providing the prize packages. Don't forget to enter the giveaway below!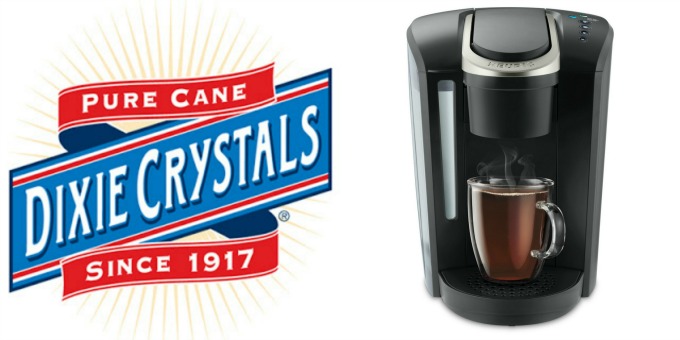 Dixie Crystals is giving one winner a Keurig K-Select Single-Serve K-Cup Pod Coffee Maker. Since 1917, Dixie Crystals® has been the South's choice for high-quality sugar and sweeteners. For generations, Dixie Crystals has been at the heart of family traditions and celebrations. Our pure cane, non-GMO sugar products guarantee that treasured family recipes will turn out right every time. Bake with love and Dixie Crystals.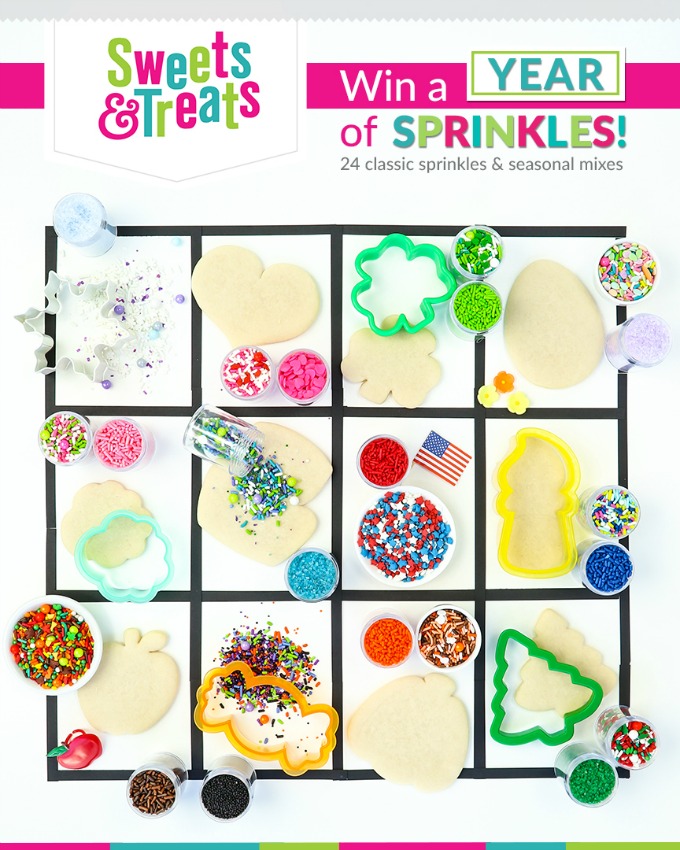 Sweets & Treats is giving one winner the Year of Sprinkles that contains holiday mixes, classic sprinkles, and some of their most popular sprinkles.
Sweets & Treats, a party and baking supplies manufacturer and wholesaler, started out of a baking industry need for truly grease-proof cupcake liners. From there, the company expanded into a handful of specialized categories including the latest, Sweet Sprinkles, their one of a kind sprinkles and sprinkle mix line. With hundreds of truly unique products, they are a one stop shop for your next party!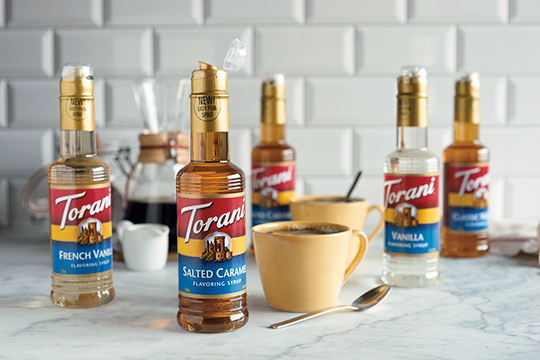 Torani is giving one winner a year supply of Torani: 12-750ml glass bottles, flavors will be winner's choice, plus pumps for each bottle.
We believe in flavor for all and opportunity for all.
In the beginning, Rinaldo and Ezilda Torre visited family in Lucca, Italy. They returned home to San Francisco with handwritten recipes, which they used to create authentic flavored syrups. Needless to say, the syrups we're a hit.
A lot has happened since then, but our belief has remained the same: Flavor for All, Opportunity for All. It means that not only are the products we make inclusive and approachable, but so is our success. We believe everything starts with people, and the only way to truly succeed is to succeed together. Today, you can use more than 100 of our naturally
flavored syrups, sauces and beverage bases
in coffees, sodas, teas, smoothies, cocktails and more.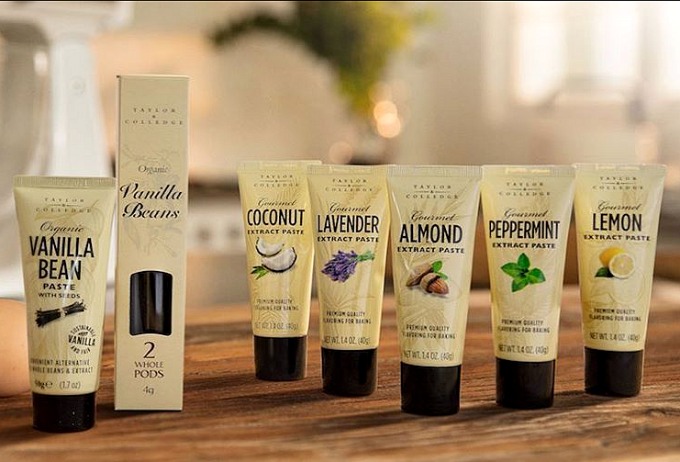 Taylor & Colledge is giving one winner a selection of their gourmet extract pastes, including Organic Vanilla Bean Baking Paste, Lavender Baking Paste, Almond Baking Paste, Coconut Baking Paste, Lemon Baking Paste, and Peppermint Baking Paste. Taylor & Colledge has been making award winning Vanilla products since 1897.
As a family owned business, Taylor & Colledge illustrates commitment to the fair, ethical and sustainable sourcing of Vanilla. Over the years they have pioneered a number of country specific programs to support growers, their families and to make the vanilla industry more sustainable. They have also taken this knowledge and expertise and applied it to their full range of baking pastes.
Whether it's sourcing the finest peppermint (mentha piperita) to make the best Peppermint Oil, or using only real Almond Milk and Oil of Bitter Almond for their natural Almond Extract Paste, Taylor & Colledge commits to transforming your baking with premium quality pastes, made with only the finest ingredients from around the world.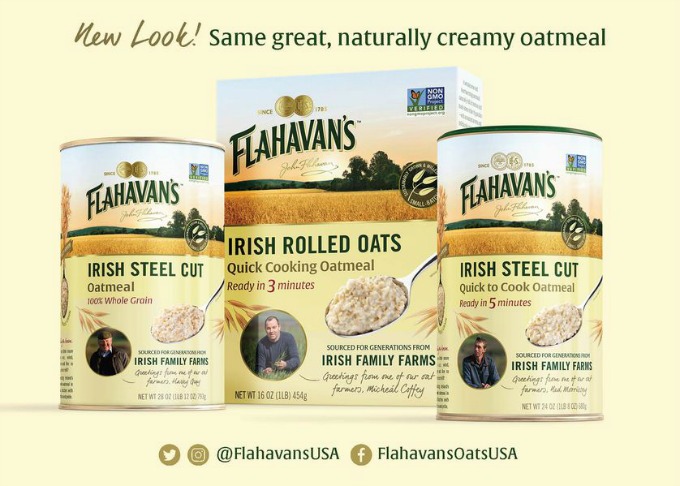 Flahavan's is giving one winner an oat prize package including a jar for overnight oats and a selection of Rolled Oats, Quick to Cook Oats, and Steel Cut Oats. Ireland's oldest family-owned food business is at the family mill located in the Southeast of Ireland. Flahavan's can trace its oat milling history back to 1785 and its expertise in producing naturally creamy oatmeal back over 230 years. A seven-generation family business, Flahavan's is the bestselling oatmeal brand in Ireland, where people eat more oatmeal per capita than anywhere else in the world. Flahavan's is a founding member of Origin Green, the first-ever national initiative to mandate 100% sustainability for food exports.
Thank you to #BacktoSchoolTreats Sponsors:
Dixie Crystals, Sweets & Treats, Torani, Taylor & Colledge, and Flahavan's for providing the prizes free of charge. These companies also provided the bloggers with samples and product to use for #BacktoSchoolTreats recipes. All opinions are my own. The #BacktoSchoolTreats giveaway is open to U.S. residents, age 18 & up. All entries for the winner will get checked and verified. By entering you give the right to use your name and likeness. The number of entries received determines the odds of winning. There are five (5) winners selected.
Sponsors will send the prize packages directly to the winners. Winners have 48 hours to respond once chosen, or they forfeit the prize and alternate winner(s) get selected. The #BacktoSchoolTreats Bloggers are not responsible for the fulfillment or delivery of the prize packages. Bloggers hosting this giveaway and their immediate family members in their household cannot enter or win the giveaway. No purchase necessary. Void where prohibited by law. This promotion is in no way sponsored, endorsed or administered by, or associated with Facebook, Instagram, Pinterest, Twitter or any other social channel mentioned in the #BacktoSchoolTreats posts or entry.