Savory Rosemary Baklava with Brie is a savory and sweet version of the traditional dessert, but in an appetizer form.
I've been playing with this idea in my head for a while.  I can't even remember how I thought of it.  My brain just sort of makes leaps and jumps from one subject to another.  At the end of the conversation in my head I even have difficulty following the train of thought.  I usually have to explain myself sometimes.  Sometimes I really do have to think to myself, "How in the world did I think of that?"  I'm guessing it was something I saw on savory shortbread?  Lord knows.
Anyway.
This just seems like an excellent holiday appetizer.  Okay.  Is it just me or does everything in phyllo dough just seem more elegant?  Maybe it is just me, but all those crispy layers that are a mystery to bake with for some people.  I embrace the crispy layers of goodness that is phyllo, but S doesn't really like it all that much, but he did try this.  Not his cup of tea, as he said.  I knew it wouldn't be.
Sometimes, I make things just to see how they taste.  That's the case with these tasty gems.  I will have to say, that I accidentally overcooked the syrup and it was more of a soft ball candy stage.  Whoops.  I need to work on my simple syrup skills.  Maybe this winter.  *shrugs*  Or, you could skip the syrup all together.  I've shown it both ways for your viewing pleasure.
A word on brie.  It's really soft.  In order to make this work, I wanted to grate the brie.  Yeah.  I said grate.  I froze it just enough to make it hard and grate-able.  Well, somewhat grate-able.  Once it was semi-frozen, it was easy enough to handle and I was able to grate it for the most part.  Then I took the grated brie and put it in the processor with the pistachios.  It make some chunky crumbles that were rather tasty.  I'm thinking this would be the good start to a cheese log.  Now there's an idea!!
You see how my brain works.
Either way, I think this would be an interesting appetizer or nibble for any holiday party.  They're quick and easy.  I literally whipped these up after the brie was frozen in about 30 minutes or so.  You can easily prep this with the nut mixture at least a day before.  You can have the syrup in the fridge at least 3 days ahead.  Then just assemble and bake the day of.  Seriously.  How easy is that?  I LOVE making easy look so good.
I was thinking, at some point, to make a cranberry syrup for Christmas and may still try that for the co-workers.  They are my guinea pigs, ya know.  LOL
Make sure you scroll down and see all the other talented bloggers who are participating in this Thankful #SundaySupper.  I am thankful to be part of such a great group of bloggers, chefs, and writers!
Savory Rosemary Baklava with Brie
Savory Rosemary Baklava with Brie is a savory and sweet version of the traditional dessert, but in an appetizer form.
Ingredients
1 1/2 cups red wine
1 cup sugar
1/2 teaspoon ground rosemary
1 cup pistachios
6 ounces brie, frozen and grated
1 cup butter, melted
21 sheets phyllo dough, thawed
Instructions
Place brie in freezer until firm, about 40 minutes. Grate and add to bowl of a food processor. Add the pistachios and pulse until chopped.
Combine the wine, sugar and ground rosemary in a small sauce pan over medium high heat. Bring to a boil and simmer until thickened; about 20 minutes.
Preheat oven to 350.
Working with one sheet at a time and keeping the rest covered with a damp paper towel, place one sheet of dough in the bottom of a 9 x 12 baking pan. Lightly coat with butter, and place another sheet on top. Continue layer a total of 7 sheets.
Top with half of the nut mixture. Repeat layers until all the phyllo dough and nut mixture have been used.
Bake at 350 for 20 minutes or until golden brown.
Remove from oven and cut into diamond shaped pieces.
Pour the syrup over the baklava and allow to rest about 10 minutes before serving to allow the syrup to be absorbed by the dough.
FIRST COURSE / APPETIZERS
SAVORY BREADS + STUFFING
MAIN DISHES
SIDE DISHES
DESSERTS + SWEET BREADS
All American Wine Pairing Guide for Being Thankful #SundaySupper from Martin at ENOFYLZ Wine Blog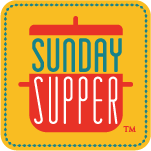 Join the #SundaySupper conversation on Twitter each Sunday. We tweet throughout the day and share recipes from all over the world. Our weekly chat starts at 7:00 pm EST. Follow the #SundaySupper hashtag and remember to include it in your tweets to join in the chat. Check out our#SundaySupper Pinterest board for more fabulous recipes and food photos.
Would you like to join the Sunday Supper Movement?
It's easy. You can sign up by clicking here → 
Sunday Supper Movement
.