We all need a Tax Day break…why not give one to your readers??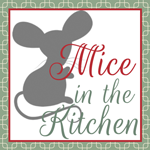 Mice in the Kitchen is hosting a Tax Day Giveaway. You WANT to participate in this. We want YOU to participate in this giveaway. It's the one day of the year 95% of us dread. Why not give your readers some relief and participate in this fantastic give away?
Have you ever heard that the only two things certain in life is death and taxes?? Well I am hoping to brighten someones Tax Day with a cash giveaway. I would LOVE for YOU to be part of it too.
Here's the 411:
Giveaway will run from April 1st and end at Midnight on Tax Day! It will be a cash giveaway and the winner will receive the prize through PayPal. The great part is EVEN if you are a sponsor blogger / shop owner you can still enter to win!!!
The amount of the giveaway will depend on the number of bloggers who participate in the giveaway. Of course I'm hoping for a huge turnout of support which will make the amount larger and increase the traffic to all of our blogs.
Entry links are $5 a link or you can co-host for $15 and get 4 links….

1 – entry link $5
2 – entry link $10
3- entry link $15
OR co-host for $15 and get 4 links
Fill out this FORM to enter.
EARLY ENTRY
To really get things kicked off and moving in the right direction to have a BIG jackpot for one lucky winner if you sign up EARLY to be part of the giveaway as a co-host you will get FIVE links for $15. But hurry that ends at midnight on January 31st.


Deadline to be part of the giveaway is March 21, 2014.


There is also a $20 cash giveaway for the person who refers the most bloggers/ store owners to be part of the giveaway. All you have to do to qualify is when someone signs up they put your name down as the person who referred them. If you would like to post this announcement on your blog you can copy and paste the HTML code HERE.
To help boost the amount of the giveaway I am adding in $50 to get it started…plus there have already been a couple sign ups so this is sure to generate TONS of traffic for your site!! There is currently $350 in the pot. Let's help to make this even BIGGER! Gynormous EVEN!! Sign up to participate, drive traffic to your blog, and meet some unique and terrific bloggers!!