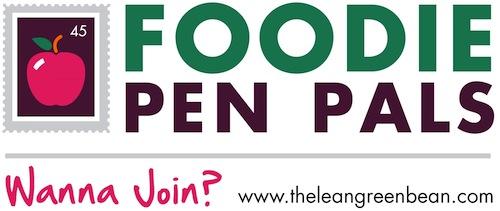 What's the Foodie PenPals?  Well, it's thie AWESOME program where people send you free food in the mail.  Sounds awesome, right?  Where do I sign up?  Right here!
Lindsey at the Lean Green Bean has this Foodie Penpals program that she started and has blossomed into thousands of bloggers and blog readers alike sending packages of food to each other.  I mean, who could pass that up?  Getting food in the mail?  Something new and different to use and try?  I know right?  Who could say no to THAT!  I sure couldn't!
On the 5th, you get your match.  You email and chat a bit about what they'd like, whatevs.  Then you put a box in the mail on the 15th and then eagerly await YOUR box to come in the mail from the person sending to you.  It's always interesting to see what people will send.  Their favorites, how they interpret your comments and your blog posts.  It's always been fun and yummy to get a box of treats.
The boxes are to be filled with fun foodie things, local food items or even homemade treats! The spending limit is $15. The box must also include something written. This can be anything from a note explaining what's in the box, to a fun recipe…use your imagination!
I was paired with Nicole Dervan of Runner by Accident.  I read that was thinking, "The only reason I WOULD run is by accident…or if I was being chased by someone who wanted to kill me."  I'm lucky that I can even walk sometimes.  *snort*
Anyway, Nicole did some blalking and came up with some nifty nibbles!
Yeah, I didn't see anything either.  That's cause they were all in that reusable bag!  How cool is that?
I can only find bags like this at my grocery store.  Not sure anyone I mail to wants one from Giant, but I guess they do come in handy.
This is what was hidden in the bag:
I was immediately drawn to the Kind bars.  LOVE those!  The hazelnut butter?  Can't wait to tear into those packages!  Quinoa.  YUM!  There's fruit leather, black and white cookies and curry potatoes.
See?  Bombay potatoes!  YUM!  I have NEVER seen heat and eat curry products.  Where are they and how can I get more?
She wrote a lovely note:
And then typed up something that explained why she chose what she did.  That was a neat idea and I may steal that.  *waves to Nicole*  Hope ya don't mind!
I've already eaten the grape fruit leather and the chocolate cherry Kind bar.  I can't help myself.  And I was FAMISHED when I got up Saturday.  I was up at 7…S didn't get up until 9.  Yup.  I was hungry.
The rest of the snack type stuff might be heading with us this weekend.  Can't have enough portable foods with you while you're camping and hiking.  I can't WAIT to eat those potatoes.  I love curry!  And the quinoa?  S hasn't had it yet.  This would be a perfect way to introduce him to it.  I love it.  Just haven't had in years.  The cookies?  Yeah.  Gonna dive into those in a minute.
Oh, and I totally agree with what she says about the nut butter.  I'd face plant in a jar if I had one.
HUGE thank you to Lindsey at the Lean Green Bean and the Foodie Penpals program.  I can't wait to see what I get in the mail next time!!